What if we could see inside our head – and we could see thoughts as things. The thoughts we think at any given moment – tangible.
What if you could open your head and see those thoughts. Here's what my thoughts in my head might look like.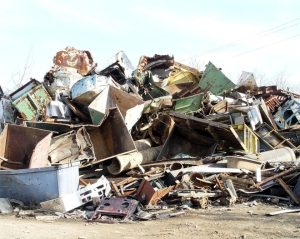 Not a pretty site. Is that a desk or a chair leg in there? I can't tell. Should I take this job or that job? I have no idea. There is no room for anything else – there is no space. My rice bowl is full (to paraphrase the Zen saying). What needs to happen?
I need to invite space in. Space between my thoughts so I can see more clearly. If I can create space, I can see the chair, for example. I can see that it's a chair with only 3 legs and is made of oak. And I can decide that I don't want to sit there. Or I can more clearly see that job "A" has great qualities, but I value "x and y", I don't want job "A".
Space between our thoughts not only allows us to see things (thoughts) more clearly, but it allows room for something else to come thru. A softer answer – more like a whisper.