I don't want to change the world. I don't care about being famous or flying around the world on a private jet. I just want to be.
I want a loving, healthy relationship, a happy, healthy family, to be debt-free, and I want to own my own home. I enjoy being comfortable. I'm 41 and feel like I've earned the right to coast a little bit.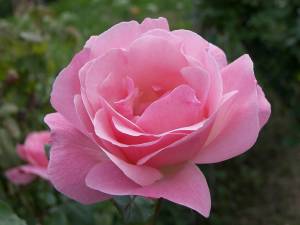 But in this crazy world, my dream sounds boring. In this crazy world, being comfortable and content with your life means you're not stretching – you're not trying hard enough – you're not thinking BIG enough – you're not enough.
We have to stop.
I feel so very blessed with my life. I have everything I ever hoped for, and I'm happy. I'm not going to be the next Suze Orman or the next Marianne Williamson. But I'm going to be the first ME. And the best way that I know how to do this is to simply be. We can't keep comparing ourselves to everyone else – we have to remember our own dreams. Focus on our own life – it's not selfish – it's essential. Focusing on other people is actually much easier than focusing on our own self.
Build the life that you TRULY want – not the life you think you should want. Along the way, remember to pet the puppy, smell the flowers, and smile at the sky. Just be.