We wear our pain in the lines on our face; the sometimes far-away look in our eye.
White women are quickly becoming the forgotten gender – except, of course, for sex.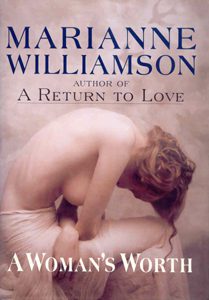 Now that we have a black male President, I think white women have the right to rebel; to throw things; to yell, to punch, to say "what the fuck."
But we won't. We'll keep moving ahead the best we can.
You know who we are. Look in our eyes. We are more alive, more free, and more wild than we appear. But we don't know how to shake off the air of reserve that we've been taught to carry for so long.
The most important first step is to acknowledge every level of your being – be a saint, and love her. Be a slut, and love her. Be a professor, a student, a wife, a mother, a dreamer. BE.
The most empowering book I've ever read on this subject is Marianne Williamson's "A Woman's Worth" – whom obviously gets all credit for the title of this post.
We are all struggling under the weight of something heavy. Live free and support your fellow women.